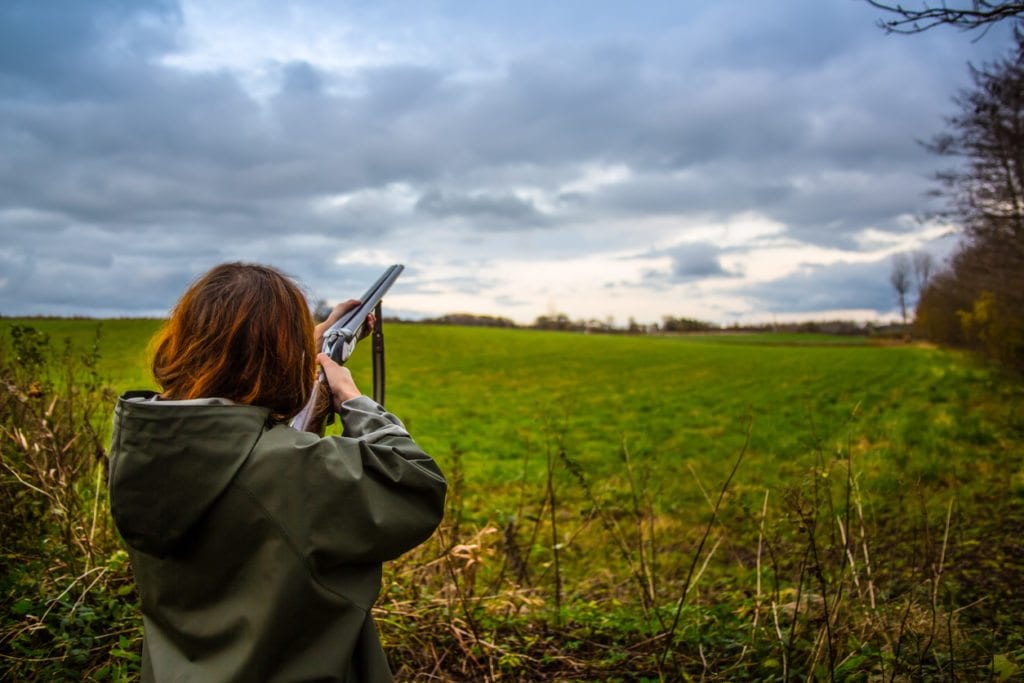 As with every sport, or most things in life for that matter. Your first exposure to it is the most important. Clay pigeon shooting is no exception. Bad habits can be learned very quickly. So good initial instruction will pay dividends in the long run and will ensure good habits from the start. Therefore, is good to get a few clay pigeon shooting tips. Additionally, if you are excited about your clay pigeon shooting trip, there are many things you can gifts to make the day more special. Check out our country living range.
Here's our beginner's guide to clay pigeon shooting for those who want to be on top of their game (or clay).
Related: Advantages of Country Life Over City Living
Clay Pigeon Shooting Top Tips
Gun Safety
Never shot before? The very first thing you need to learn is gun safety and correct gun handling. Eventually, this will become second nature but in the beginning, you can never be too safe. As soon as you pick up your gun be conscious of your every move. The golden rule is to never point a closed gun within 45 degrees of anybody or anything you don't wish to shoot. Always treat a gun as if it is loaded, even when closed.
Dominant Eye
Once you're safe, you need to figure out whether you will be shooting left or right-handed. Not only this, whether you will be shooting with one or both eyes open. Generally, around 80% of women have a left master eye, whereas 80% of men have a right master eye. If you are one of the lucky ones, you'll be able to shoot with both eyes open for clay pigeon shooting. Having a binocular vision is a blessing in shooting, so make sure you take full advantage. This easy test will establish your eye dominance:
Pick an object across the room and point at it. Now close your left eye. If you can still see the object at the end of your finger this means that you are right eye dominant. However, if the object has moved away from your finger, open your left eye and close your right, without moving your hand. If the object is now at the end of your finger, this means you are left eye dominant.
Choosing The Right Gun
Choosing the right gun is an important part of the process. Your instructor will be able to help you with this. There are a number of things to consider such as stock length, whether you are left or right-handed, gun weight, calibre and configuration.
Ladies physique usually requires a different shaped stock to that of men. Women often need a higher comb height because of their higher cheekbones and the stock may need to be shorter. The toe of the stock may also need to be rounded off or reduced to accommodate the different chest shape and size. Another important point to remember is a good cartridge always helps, as does a low-recoil shell. Take a look at our beautiful small leather cartridge bag and brown leather gun slip to add ease and style to your day out for clay pigeon shooting.
Listen To Your Instructor
Clay pigeons are thrown into the air to produce a flying target by the stands. There are numerous types of clays, all of which mimic the flight of the game. The stands will fire the clays from a multitude of positions to test your shooting skills. To begin with, your instructor will show you the path of the clay. You will always have a crosser, an incomer, a going away and an overhead. Your aim is to know where the clay is coming from and where it's going. In some cases, you will have to shoot ahead of the clay's path, which at first, feels unnatural but will soon become second nature.
Dress For The Weather
There is nothing worse than being cold and wet when out on a shoot. Always dress for the weather and time of year, also taking into consideration safety. Ear and eye protection are crucial, as is sturdy footwear – being able to hold a steady stance is imperative. Why not check out our luxury bags for the occasion.
Don't Forget Your Hip Flask | Clay Pigeon Shooting Gifts
After a full morning's shooting, break out the hip flask and warm the cockles with a shot of your favourite tipple. Whiskey is a firm favourite amongst shooters but it's really whatever tickles your fancy. Our Luxury Leather 8oz Hunter Flask is perfect for every occasion and we even offer a funnel to make sure nothing goes to waste.
If you enjoyed reading our clay pigeon shooting tips you may also like Dressed to Kill | Hunt in Country Style or Luxury Bags | A Basic Guide to Leather Luxury Bags